Cuando empecé a escribir esta historia pensaba explicar por que me ha dado por hablar de esto ahora, pero se estaba complicando mucho la explicación así que he decidido hacer un esfuerzo de concisión y no explicar nada :P
El caso es que hace unos 10 años un amigo me descubrió el concepto de palabras intraducibles para conceptos sin nombre y estuvimos hablando, que yo recuerde, de
sisu
,
koyaanisqatsi
y
anitya
.
Me fascina cómo en algunos idiomas existen palabras que en otros no existen y cómo algunos de esos conceptos una vez expresados pueden resultarme cercanos, con esa sensación de "esto lo he vivido/pensado/sentido", y otros son totalmente extraños y casi incomprensibles.
Ahora me ha dado por volver a buscar palabras intraducibles y, como casi todo en Internet, ha crecido de forma exponencial lo que se ha escrito sobre ellas.
He encontrado dos artistas que han ilustrado palabras intraducibles, Anjana Iyer y Ella Sanders.
Las de Anjana Iyer están todas en este enlace
30 Untranslatable Words From Other Languages Illustrated By Anjana Iyer
Ella Sanders ha publicado un libro "Lost in Translation: An Illustrated Compendium of Untranslatable Words From Around the World." Algunas de las ilustraciones se pueden ver en esta entrevista
A 19-Year-Old's Book Of Untranslatable Words
. También está traducido al español
'Lost in translation': palabras intraducibles de todo el mundo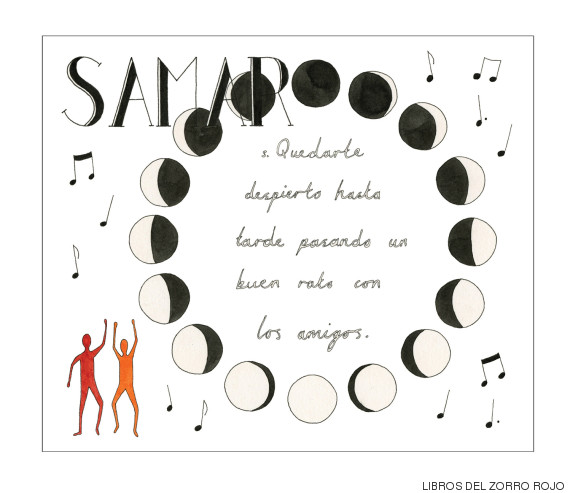 Un investigador ha reunido en una página web los resultados de sus investigaciones sobre palabras intraducibles relacionadas con el bienestar:
The positive lexicography
. Lo cuentan en
The untraslatable emotion you never knew you had
.
También me ha encantado encontrarme un diccionario de palabras inventadas para describir "penas oscuras":
The Dictionnary of Obscure Sorrows
. Sobre el que se puede tener más información gracias a esta entrevista a su creador:
Can't find the right word for a hard-to-describe emotion? Meet a man who makes them.
Dejo por aquí los enlaces para compartirlo por si alguien tiene curiosidad y para tenerlos yo a mano en el futuro (poniendo que en Internet los enlaces tengan futuro, pero es otra historia).
También estaría bien compartir en comentarios las palabras que os hayan llamado la atención :-)
Editado: El Rodríguez quiso poner un tema musical en los comentarios pero no se puede así que lo pongo ahora aquí, que no se diga que no le hago caso, auqnue sea con retraso (espero que o me lo tenga en cuenta...)
URL de trackback de esta historia http://comentaristasdispersas.blogalia.com//trackbacks/76927